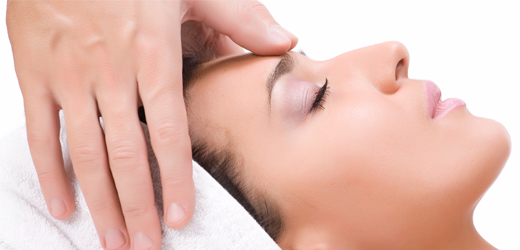 Facial massage finds its roots in the beauty secrets of the ancient far eastern civilizations. Facial massages are underestimated as regular spa cleansing treatment, but enclose within many benefits for our body and skin, where a refreshed skin is only a beginning.
Facial Massage Technique
It involves gentle stroking techniques of facial muscles; forehead, temples, eyes, jaw lines, chin, neck and shoulders which are tactfully massaged for around 20 minutes to relieve muscle stress and loosen them. Massaging in circulatory movements tightens the slackened muscles. The procedure is carried out in a peaceful and softly lit ambience for ultimate relaxation of the brain.
Ways Facial massage can be beneficial for your skin
Acne: Facial massage is a regular beauty treatment that prevents acne and other skin conditions without the use of medicine. The gentle stokes increase the blood flow to the skin, which oxygenates it and helps in healing the inflammations. Wash the face well before performing it, otherwise excess oil, dirt and bacteria gets trapped in the pores, worsening the condition. Care must be taken to use gel instead of oil based exfoliates and not to conduct it for more than ten minutes as overstimulation may harm the acne affected skin. Professional help is advised!
Dull complexion: Facial massage can help you get tones fairer through application of either creams or homemade facial masks. You can brew up natural facial mix in the kitchen by mixing up yogurt with gram flour and turmeric. Massage it gently on the face for a glowing skin of all skin types, or alter combination with honey and cucumber juice to get fair naturally. Apply a test patch to check allergies.
Water retention: Even a five minute facial massage helps to keep skin hydrated by flexing skin pores and letting facial creams absorb in skin. These creams contain oils necessary to lock in the skin moisture that keeps it soft and hydrated all the time.
Cleanser: Increased oxygen and blood flow through facial massage helps clean away dead cells and other residue from the body. As the skin cleanses, it removes spots and marks on the skin and shows up in form of a fresh, glowing face.
Skin tightening: With time, the skin loosens around eyes and cheek as collagen and tissues that bind the skin together lose their elasticity. Facial massage, ideally with castor oil or almond oil (see benefits and uses of almond oil for beautiful skin), helps to make the skin firm and smooth by tightening them.
Blackheads: Blackheads form when naturally produced oily substance called sebum clogs skin pores, gets oxidized and turns black. It can be easily removed through facial massage. Choose a suitable over-the-counter cream or better yet, make a paste of gram flour, cream and rose water and apply it on the face for 15 to 20 minutes to eliminate them.
Wrinkles: Aging effects are curtailed with a better flow of oxygen in the skin initiated by facial massage. Blood flow is efficient in youth, which is why skin is soft at that age and optimum impact of facial gets more obvious after the age of forty.
There are many other facial massage benefits for your skin like reduced puffing under your eyes, may generate new skin cells, relaxes and distress actions, reduces two toned skin etc. Facial massage with a mild cream can be a daily practice for skin cleansing. Proper cleansing will keep your skin hydrated and healthy. Facials are of different types which are designed for different skin types and purpose. The compelled ones should be performed by professionals who knows your skin well, to avoid any damage to the skin.