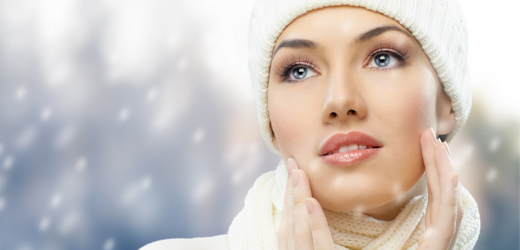 Winters have already begun and the cold dry winds have started showing its effects on the skin. Dry and itchy skin can be irritating but it is not necessarily a serious medical condition. As Mother Nature offers seasonal changes, it also offers natural, better and safer ways to deal with it. The range of moisturizers is effective in winters but nothing synthetic can be compared to the natural home remedies. For our readers we have listed some tested and tried natural home remedies for dry skin in winters.
Causes of Dry and Itchy Skin in Winter
Cold air in winters is dry, as per fact colder the air the less moisture it contains. This acts as the single most important factor for dry skin in winters. The cold dry outdoor air comes in contact with your skin and forces the moisture to evaporate. As your skin roughens, scratching becomes an inevitable routine reflex. Other reasons why your skin can get dry in winters can be wearing scratchy winter wear, prolong showers with rough soaps, drinking less water etc.
Natural Home Remedies for Dry Skin in Winters:
Drink Water

: Retaining water and keeping yourself hydrated all the time is the key; ensuring adequate water intake and the presence of essential oils over the pores to retain it is the most promising way to keep away dry and itchy skin during winters. Eight to ten glasses of water a day will keep those seasonal scales off your skin and give you the natural softness.

Egg yolk Paste

: Egg yolks are can be a great moisturizing agent for your skin. Mix an egg yolk with a teaspoon of honey or olive oil and apply over the dry patches. Leave for 15 minutes and wash off with water.

Aloe Vera Gel

: Aloe Vera gel is a miraculous healer and a popular content of cosmetic products. Extract it fresh from the plant and apply the gel over the skin for 10-20 minutes. A gentle massage of the gel will not only cure the dryness but also leaves the skin cleaner, fresh and glowing.

Treatment with Oils

: Choose Natural oil that suits you the most from a selection of Olive oil, Coconut oil or Almond oil. Massage a few drops over the dry, itchy patches half hour before bath and take a shower with lukewarm water. Avoid very hot water as high temperatures wash off the essential oils from the skin, which also results in dryness. Another way is to massage your skin with natural oil after taking the shower with lukewarm water to avoid dryness from the rough soaps.

Avocados and Papayas

: Severe cases of skin dryness are best dealt with avocado oil massage or an avocado mask. Mix avocados with papaya paste and apply over the skin for 10 minutes. Papayas exfoliate the skin, remove spots and marks from the face, and leave your skin brighter and cleaner than before and Avocados helps your skin to regain its moisture.

Curd's Word

: Yogurt or curd is one simple ingredient and one of the most popular home remedies with many miracles. Mix yogurt with a tablespoon of honey, a little turmeric and apply it over dry and itchy skin. Gently wash it with lukewarm water after 15 minutes. Its rich antioxidants not only smoothens the dry skin and heal the itchiness, but also acts as an anti-aging agent on the skin.
NOTE: Apply a test patch of the above natural home remedies for dry and itchy skin in winters to check allergies