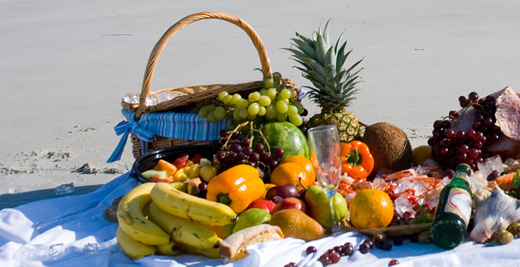 Picnics are always fun and a chance to spend some memorable time away from home with your friends and family. Nowadays picnics have become more luxurious and people are no longer relying on sandwiches and drinks for the picnic menu. Perfect picnic menu is preset keeping in mind the place, weight, preparation time, quantity, weather, and crowd as there should be something for everyone to enjoy.

Barbeque, grilling, live cooking and table full of food is the new trend. Keeping in mind all the considerate factors I have compiled 99 perfect picnic menu ideas for starters, main dishes, desserts and drinks.
Snacks and starters for a perfect picnic menu
Picnic means fun with a lot of games and energy consumption. This means you need to keep some ready to eat snacks and a few appetizers to munch on the way.
1. Chips
2. Butter Popcorns
3. Biscuits
4. Sweet buns
5. Nachos with cheese dips
6. Vegetable dips
7. Chicken spread sandwiches
8. Nuggets
9. Deviled eggs
10. Mashed potato with soup sticks
11. Boiled eggs
12. Vegetable Marconi
13. Potato balls
14. Garlic bread with cheese
15. vegetable Pakoray
16. White Cheese pakoray
17. Chana chaat
18. French fries
19. Caramel popcorns
20. Patties
21. Chicken fingers
22. Roasted peanuts
23. Cutlets
24. Samosay
25. Fried chicken rolls
Make sure that the food is properly packed and only select the items that suit your picnic conditions. For example chicken spread in sandwiches contains mayonnaise which can change its taste if not stored in a cool dry place.
Special picnic salad menu
The trend of eating healthy has encouraged the addition of different types of easily prepared salads in the picnic menu. Here is a list of some easy picnic salad recipes which can be prepared in no time and are very appetizing as well.
26. Potato Salad
27. Mix fruit salad
28. Apple and macaroni salad
29. Green mix salad
30. Russian salad
31. Crunchy vegetable and bean salad
32. Simple cucumber, onion and lettuce platter
33. Cold chicken and bean Salad
Try to take separate ingredients and make a fresh salad just before you wish to eat but if you will not have such facilities and wish to save time and hassle at the picnic than prepare the salad and allow it to cool in the refrigerator for some time so that it can stay fresh for long. Place your salad bowl in a cooling bag or icebox if possible.
Perfect picnic sandwich ideas
Sandwiches are easy to eat, quickly prepared and loved by everyone. Picnics are incomplete without sandwiches.
34. Egg sandwich
35. Vegetable sandwich
36. Pinwheel sandwich
37. Cucumber sandwich
38. Grilled chicken sandwich
39. Chicken sandwich
40. Cold sandwich
41. Cheese sandwich
42. Club sandwich
43. Deli line sandwiches
44. Pizza sandwich
45. Kabab sandwich
46. Bran bread sandwich
47. Peanut butter sandwiches
48. Healthy salad sandwich
49. Home spread sandwich (only in winters)
50. Mexican sandwich
51. Shami kabab sandwich
52. Corn Soup (best served in winters)
Main dish ideas for a perfect picnic
Now comes the main part of your picnic menu which should be easy to prepare, takes less preparation time while being nutritious and tasty at the same time. Presentation counts a lot! Give your dish a creative touch and take along some simple garnish.
53. Mini Burgers
54. Biryani
55. Pizza
56. Roasted chicken
57. Club sandwiches
58. Shami kabab
59. Grilled chicken
60. Karhai chiken
61. BBQ fish
62. BBQ tikka
63. BBQ Beef boti with green chutney
64. Chicken ginger
65. Fried drumsticks
66. Qeema
67. Cold lemon Chicken slices with bread
68. Seekh Kabab
69. Haleem (prepared before and packed properly)
70. Lahori grilled chicken
You can keep your main dishes half done or marinated before at home to make your work easy later on. A few main dishes like Shami kabab, lemon chicken slices and seekh kabab can be reused in sandwiches at tea time.
Desserts for a picnic
Individual serving is a little difficult at picnics and making efforts to keep the desserts cool till the end of the meal is not easy. Keeping in mind the availability of resources on a picnic day out, here are some simple dessert ideas which will surely satisfy your sweet tooth craving.
71. Fresh seasonal fruit like watermelon, mango and oranges
72. Canned pineapple (frozen)
73. Chocolate bars
74. Candies and marshmallow
75. Simple Cupcakes (without cream)
76. Brownies
77. Gulab Jamun (avoid sugar syrup)
78. Jalebi
79. Glazed doughnuts
80. Egg or rice pudding (Only if the weather is cool)
81. Chocolate biscuits served with dips
The best dessert to be served on picnics is fresh sliced fruit. Cupcakes or brownies can be easy to serve and you can prepare them a day before too.
Ideas for picnic drinks
Drinks are always a very important part of picnic menu especially in summers. Don't forget to keep a lot of thirst-quenchers as usually the demand of drinks is more.
82. Rooh afza
83. Squashes
84. Lemonade
85. Namkeen Lassi
86. Sweet lassi
87. Ice tea
88. Green tea
89. Canned juice
90. Icy water
91. Fruit punch
92. Tea
93. Coffee
94. Fizzy drinks
95. Lemon punch
96. Energy drinks
97. Watermelon cooler
98. Mint tea
99. Soft drinks
Don't forget to carry sufficient ice cubes to serve your drinks cold. Keep colorful disposable glasses and cups to make the serving easy. I suggest that the picnic menu should be kept simple so that you can enjoy with others rather than being busy all the time in food preparation. Now you can easily make your own perfect menu by selecting your favorite combinations from the above compilation of 99 perfect picnic menu ideas.
Do share with us your ideas of a perfect picnic menu.