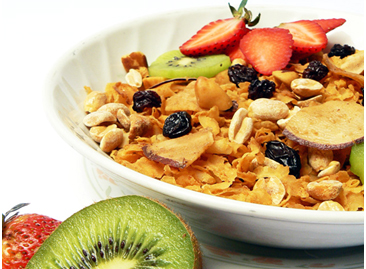 Your body needs care and proper diet so that you can stay fit and healthy. Breakfast is often missed by many people and they do not realize how important your meal to start your day is. Being too busy, waking up late for the office or school, morning sickness and desire to lose weight are some common reasons why many people neglect their breakfast.
Importance of Breakfast
Morning fuel will help you to regain the glucose level in your blood.
Breakfast provides you nutrition to start your day well.
If you do not take proper breakfast you will feel tired and low the whole day.
Morning meal improves your concentration level.
It provides you with energy to work.
Eating in the morning keeps you away from overeating later in the day.
A proper healthy breakfast can help you to reduce weight.
Habit of taking a nutritious breakfast keeps you healthy.
Quick and Healthy Breakfast Ideas
Cereal with strawberries/bananas and milk
Oatmeal, orange/apple and milk
Pancakes topped with fruit and skimmed milk
Boiled egg with bran, banana and milk
Apple and yogurt
Bowl of mix fruit salad. Try to add a combination of fresh fruits in your morning diet.
Cornflakes and high fiber cereals with dry or fresh fruits and milk
Bran bread with a fruit jam/marmalade and a glass of juice/milk
Omelets with juice and bran slice
Waffle with fruits
French toast with a shake
Easy and Scrumptious Breakfast Recipes
Strawberry Breakfast Sundae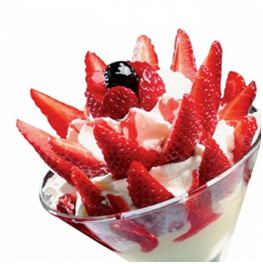 Ingredients:
1/2 cup cereal
1/2 cup vanilla or strawberry flavored yogurt
1 Tablespoon strawberry jam
4 big fresh strawberries – sliced
1 big fresh strawberry – whole
Method:
Place a tablespoon of strawberry jam and 2 sliced strawberries in bottom of a glass.
Put 1/4 cup of the cereal on top of jam and cover that with 1/2 of sliced strawberries.
Put 1/4 cup yogurt over strawberries. And then again make a layer of the cereal.
Garnish top with the whole strawberry
Fruity Porridge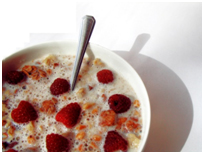 Ingredients:
1/2 cup of rolled porridge oats
1 cup of water
1 ripe banana
1 small eating apple
3 strawberries
Method:
In a pan, slowly bring the porridge and water to boil.
Blend the banana, apple and strawberries in a blender until liquidized.
Pour into the porridge and bring to a boil again.
Serve with plain yogurt.
Spicy Scrambled Eggs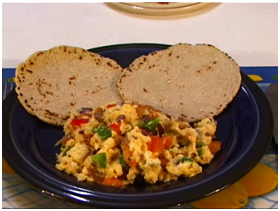 Ingredients:
1 medium potato; diced
1 medium onion; chopped finely
2 tomatoes; blanched, peeled and chopped finely
1/2 cup chopped chives
2 cloves garlic; minced
1 inch ginger; grated
2 chilies; chopped finely
1 tbsp coriander / cumin powder
1/2 tbsp turmeric
3 eggs; beaten
1/2 cup chopped coriander leaves
salt – to taste
2 tbsp olive oil
Method:
Heat oil, and sauté the potatoes until cooked, remove and set aside.
Fry the onions until golden brown, add garlic, ginger and tomatoes. Fry for a few minutes.
Add cumin/coriander and turmeric powder, stir and fry for 1 minute.
Add potatoes, salt, chives and stir and cook for A minutes.
Add eggs, stir until cooked.
Add coriander, mix and serve hot
Cheese Omelet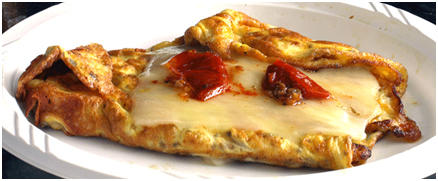 Ingredients:
Eggs – 2
Cottage Cheese – ½ cup
Pepper – 1 tbsp
Salt – to taste
Oil – 4 tbsp
Method:
Take a bowl and beat two eggs in it.
Add cottage cheese, pepper, and salt in it.
Mix it well.
Take a frying pan and heat oil in it.
Pour the mixture in the frying pan.
Fry the omelet until slightly brown.
Serve hot.
Deviled Eggs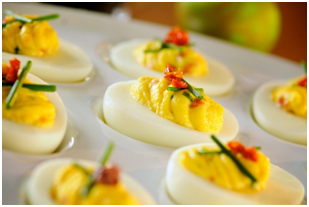 Ingredients:
3 Large Hard Cooked Eggs
2 tbsp Mayo or Salad Dressing
1/2 tsp Prepared Mustard
1 Dash of Pepper
Method:
Cut eggs lengthwise into halves.
Slip out yolks and mash it with a fork.
In a separate bowl, mix in remaining ingredients and then add the mashed yolk
Fill the egg with the mixture heaping it up lightly.
Whole Wheat Puri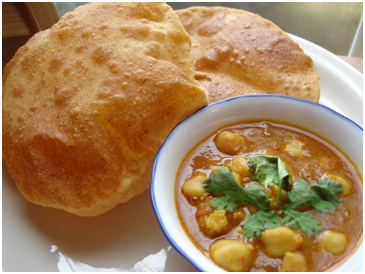 Ingredients:
2 cups whole wheat flour
1/2 tbsp vegetable oil
1/2 tbsp salt
¼ tbsp ajma / ajwain
1/2 tbsp roughly ground black pepper
Vegetable or olive oil – for frying
Method:
Mix the dry ingredients, add oil and mix, add water to form a firm dough and knead till smooth. Let it rest for about 30 minutes. Make small balls about walnut size.
Roll out into 4 inch diameter circles.
Fry in hot oil, one or two at a time, holding them under the oil on the first side until they puff.
Turn and fry till golden brown; remove onto paper towels
Fruit Shake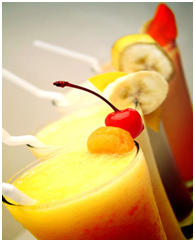 Ingredients:
4 oz. Orange Juice (Frozen)
1 Banana
1 cup(s) Fruit Yogurt (Your choice)
1/2 piece(s) Fruit (Apple, pear, pineapple, strawberry etc)
Method:
Blend with 6 ice cubes until smooth.
Serve chilled
Remember! Healthy start of the day will keep you moving the whole day. Make sure you take care of your body as much as you take care of how you look. After reading this article set your alarms for half an hour early so that you can have your breakfast. Make a difference in your life to remain fit and strong!