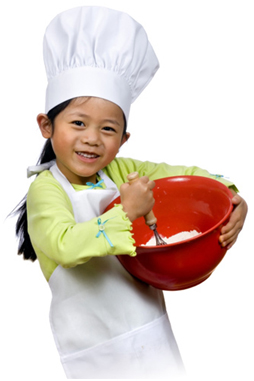 Summer vacations leave your child with plenty of spare time to play games and enjoy life with no homework and no early morning wake-up alarm. This summer make some special kitchen plans with your young ones. Cooking with kids is a fun experience that teaches your child a lot more than how to cook.

Importance of Cooking with Kids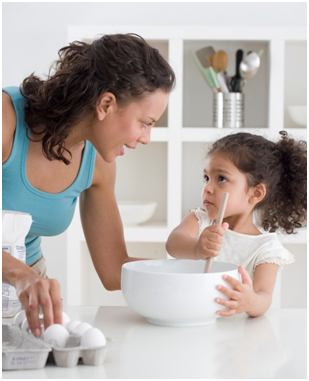 Asking the kids to prepare their own juice snacks and helping them in the kitchen with the work will give you a quality time with your child.
Children will understand the importance of food and will also realize how much efforts their moms put in while cooking.
Kids love baking and making their hands dirty the dough and creams. This will make their learning process a bundle of fun.
Kids can be taught measurement, patience and obedience in the procedure of cooking.
Kids can learn about different places, cuisines and ingredients while having fun in the kitchen.
Experimenting with different utensils and ingredients the child will be able to stimulate the creative skills within.
Children enjoy the food.
Appreciation by the elders will boost their confidence level.
Teaching about the presentation of the food will polish the intellectual power they possess.
Being in the kitchen, the kids will understand about sharp knives, hot dishes, stove and will learn to be more cautious about any accidents and hazards.
Easy Recipes for Kids
Following are some easy to make recipes for kids which they will enjoy making and eating too:
Smiley Face Pizza
Flatten the dough or take pizza base available in the market and cut it into a 6-inch circle.
Place on oil sprayed baking sheet. Poke several times with a fork to prevent bubbles from forming. Bake at 350°F 10-12 minutes. Remove from oven and let cool slightly.
Spread with sauce and chicken cubes or deli line sausages if your child likes and top with grated cheese. Bake at 350°F 8- for 10 minutes or until cheese is nicely melted. Remove from oven and make face using sliced mozzarella rounds with olives for eyes, pepperoni for nose and eyebrows and a green pepper slice for mouth.
Banana Smoothie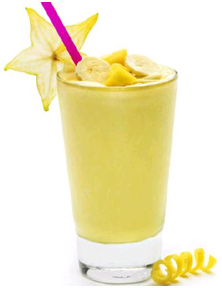 1 Banana (sliced)
Milk-1 cup
Yogurt-1 cup
Pineapple slices-2 big
Ice cubes
Sugar-1 tsp(optional)
Directions
take all ingredients and put in a blender until smooth!
Colorful Fruit Skewers: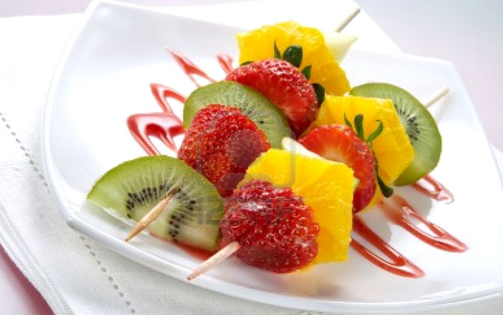 (Serves 12)
12 wooden skewers
1 large ripe mango, peeled
2 large oranges, peeled
2 large bananas, peeled
250g small strawberries, hulled
1-2 tbsp butter
1 tbsp lime juice
1/2 cup honey
1 cup vanilla yoghurt
Soak skewers in cold water for 20-30 minutes. Cut mango and oranges into 3cm chunks. Cut bananas into 3cm slices. Thread fruit onto skewers, alternating the varieties, and place on an oven tray. Combine butter, lime juice and honey in a small saucepan and stir over low heat until butter has melted and mixture is smooth. Pour mixture over fruit, turning to coat.
Cook skewers on a lightly greased barbecue or grill plate until warm.
Cool and serve with yoghurt. You can use any other combination of fruits too. Strawberry, kiwi, pineapple are ideals for kids skewers to add colors.
Videos of Fun Kids Recipes