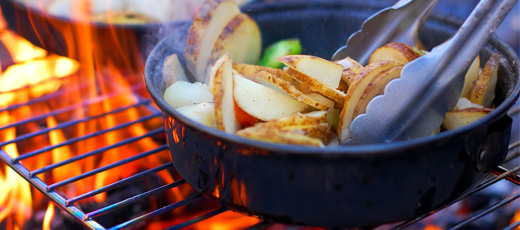 Dinner is the formal meal of the day when the family sits together and enjoys the feeling of being together. Different cultures have their own ways of presenting and making dinners, but one thing common in all is the importance given to the meal. Dinners are considered to be the main meal of the day and therefore special preparations are made accordingly.
When food is prepared, a lot of different aspects are considered. Health side is usually kept in mind, as lots of people are now following the healthy living trend. Besides this, if the dinner is made for a special occasion, festival or event, the menu setting and quantity made will be different. Similarly if a formal full course dinner is planned, the cooking recipes for dinner will be altered and the presentation will be given more importance. In this article we have compiled the most important considerations for cooking recipes for dinner and some dinner tips to make your cooking more of a stress-free and easy experience.
1. Cooking Recipes for Dinner at festivals
The festival season is a food treat and traditionally made recipes are always on the top of the list. When you decide over the cooking recipes for dinner for events and festivals, make sure you consider the theme and spirit of the celebration. Try something unconventional to make your dinner a treat! Choose the menu from rich meals, colorful presentations and a mix of some royal recipes like:
Roasted full Chicken
Chocolate cupcakes
Cream and mushroom Soup
Casserole
Grilled garlic prawns
White sauce pasta
Sizzling pineapple chicken
Beef Steak
Fish fillet served with special sauces
Mexican chops
Russian Salad
Exotic seasonal drinks
Don't forget that festivals and celebrations are incomplete without chocolates. Something sweet is a way to express your joy and if you are a chocolate lover than making something at home with your favorite ingredient can make your family and guests surprised and delighted. So, here is a list of some simple and easy to make chocolate cooking recipes for dinner which take less time to prepare and taste superb:
Chocolate coated strawberries
Chocolate brownies
Chocolate and nut cupcakes
Chocolate and cream pudding
Chocolate and mint pie
Chocolate filled muffins
2. Cooking Recipes for Dinner That Are On Diets
Healthy cooking and preparing cooking recipes for dinner for people who are on diet is not at all difficult. You just need to choose the menu wisely and use the preparation techniques which are safe. This way you can keep your family happy and healthy at the same time. After doing an extensive research, we came to a conclusion that if the following aspects are considered while cooking, one can easily make amazing and healthy cooking recipes for dinner.
Protein should be included in your meal. Choose from beans, lentils, meat, fish or poultry.
Include grains in your dinner menu. If you are serving chicken curry, add brown rice as a side dish. With steamed fish you can offer bread products and in the same way bread rolls can be served with beef steaks. This will include fiber in your diet and combination of these nutritional products and sidelines can help in planning a complete healthy dinner.
Vegetables are a must! Decide what to cook for dinner and wisely make vegetables a part of it. Avoid the starchy vegetables like peas and potatoes and limit the use. Instead use spinach, cabbage, carrots and other green vegetables. Stew them with meat, make vegetable n white bread rolls, stir fry or steam them as a side dish, make vegetable soup for the starters or simply make a bowl of fresh salad.
Dairy product in your cooking recipes for dinner can add calcium to your family's bones and help in muscle maintenance. Yogurt in Raita, cottage cheese in salad, milk in dessert or a simple glass of flavored milk after dinner can fulfill the required needs.
Fruits are a good source of vitamins and a bowl of fresh fruits like banana, apple, oranges, strawberry and melon can be a great finishing touch to your meal.
Try creating a mix of the above stated healthy options and prepare the healthy yet tasty recipes for your family. Some mouthwatering healthy recipe options are listed below to give you an idea on how you can play with simple ingredients to prepare an attractive dish:
Baked fish with spinach
Grilled prawns with garlic flavored brown rice
Mix Vegetable curry with garlic bread
Mix fruit salad with flavored yogurt
Meat balls with mushroom sauce
Tomato soup
Stir fry vegetables with rice noodles
Mashed potato with grilled chicken/meat
Thai chicken with rice (boiled and starch free)
Capsicum and chicken pasta
Lemon chicken
Chicken Teriyaki Skewers Recipe
Salt and pepper chicken with tossed green vegetables
3. Cooking Recipes for Dinner aimed at Beginner
If you making dinner for the first time or are at a beginning stage of culinary learning process than there a few important things you should consider while making cooking recipes for dinner. No worries at all! Cooking is a very interesting form of art, you just need to take some interest and follow the instructions by being careful about a few things. Remember:
Recipes are not always according to your taste, taste on every step and add whatever ingredient you think can make your dish taste better.
Keep your eyes open, if you feel the dish is ready before the stated cooking time, its ok! Serve it instead of watching the clock ticking.
Stay safe while cooking and be careful about the kitchen accidents. Don't go in the kitchen with open hair or silk dresses.
Salt is said to be the "magic ingredient" that add tastes in the dish. Use it very carefully as a lot of magical ingredients can spoil it too.
When you are baking, follow the exact measurements and do not rely on your speculations.
4. Cooking Recipes for a Full Course Dinner
Full course dinner is a more formal form of the meal where table settings and food presentation counts a lot. It consists of more than one dish and normally a full course meal starts from 3 to 4 dishes and in some extreme cases it can reach up to more than 20 courses or dishes. Selection of what to include and how to serve is what needs to be considered. The food served should complement each other and the serving spreads over a decided period of time and selected intervals.
The cutlery and table setting is done according to the courses selected. Soup spoons, dessert spoons, glasses, small plates etc. are placed accordingly. The used utensils are removed when a new course is served and they are often replaced by the new tools needed for the serving of the next dish. These are a few things you need to consider when you plan a formal full course dinner. Normally such kind of formal dinners are difficult to manage at a large gathering or at home.
5. Cooking Recipes for Dinner Tips
Here are some tips that can help your dinner making experience simpler and enjoying.
Do not overcook your meat, it will become dry
Add salt in the steaming water while boiling eggs. This will help you in easy pealing.
Cut your onion in a water filled bowl to avoid onion tears.
When you boil your pasta or noodles, drain the water and place them under running water (preferably cold) to avoid sticking.
Wash your raw fish with a mixture of lemon juice and garlic paste to remove the tangy smell.
Soak potatoes in cold water after peeling, this avoids discoloration process.
Wrap the coriander leaves in a paper bag and refrigerate them to make them stay fresh for a longer period.
Add lemon drops while boiling rice to avoid sticking.
If you wish to make baked potatoes for dinner sideline, soak them into salty water and this will support rapid baking.