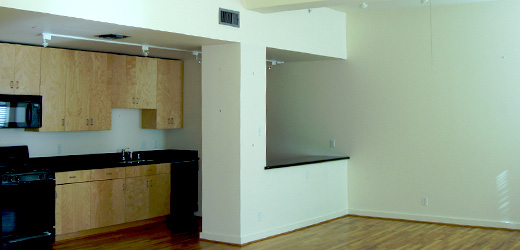 Kitchen is no longer a corner of the house where the meals are prepared for the household. It is now the state of the art room for the family to share their special times and enjoy meals. It is designed with the same dedication as any other room of the house. Kitchen design is now more of a fusion through style and comfort with spacious counters, pull out systems, corner drawers, space saver cabinet systems, utensil racks, , bakery rack, dish washer, oven integration and sliding drawers for knives and gadgets. Professional help is usually taken in designing the modern or contemporary kitchen. In this article we will talk over different ways to design a kitchen, special kitchen lighting, suggestions and tips for small kitchens, kitchen triangle concept and much more.
Kitchen Design Suggestions
When you design your kitchen, keep in mind the safety issues, appliances you require, time you normally spend in the kitchen, natural light openings, exhaust facilities, color combinations, decorative and luxury items, space allocated and the activities you carry out in the kitchen. For example if you cook and eat in your kitchen you will need a counter (small family) or a table (big family). A lot of other things are also taken into consideration when you plan your kitchen, which are discussed further in the article.
Kitchen Lighting
Natural light is important but you cannot depend on it only. Designing a kitchen means enhancing its overall impact and this can be done exquisitely with the use of different lighting modes. You can even mix different modes of lighting to provide a brighter and modern touch. Dimmers can be a splendid way or light control according to the mood and activity in the kitchen.
Ambient lighting mode is used for an overall illumination of the kitchen where the lights are placed by ceiling or under the light fittings. The illumination pattern is even and there are no damp or low light areas in the kitchen. Another mode of lighting is Task lighting which is also known as concentrated lighting as it concentrates on the work activities in the kitchen. It is situated in areas from where it can provide shadow free lighting like pending lights which hang from fixtures or fixed lights under cabinets. Accent lighting is also a mode of light which is very popular these days. It creates a focal impact on a painting, kitchen display or eating area which enhances the magnificence of that particular corner or space.
Kitchen Work Triangle Concept
Keeping in mind the efficiency of work in the kitchen, a concept was developed by Architecture students in 1950. It revolves around the concept of arranging the three most important kitchen elements: sink, stove and refrigerator. An invisible triangle is made in the kitchen between the stove, refrigerator and sink, in this way the placement is optimized and working in the kitchen becomes flexible. The distance in the elements keeps the work zone free from interruptions of the people coming in the kitchen to just wash a cup or drinking water from the refrigerator. Basically the kitchen work is divided into three most common sites which are efficiently placed by the help of kitchen work triangle.
If the stove, sink and refrigerator are placed closed to one another the place will become cramped and the cook will find it difficult to work due to the interruptions and interference. When you design a kitchen, keep in mind the kitchen workstations and the triangle concept so that your work is done in an efficient way without any disturbances of the kitchen traffic.
Small Kitchen Design Suggestions
Economic conditions around the globe have supported the concept of small kitchens. Designing a small space and accommodating all the necessary elements of the kitchen without making it congested, is a little difficult. For this reason you need to consider a lot of different factors while selecting the small kitchen design.
Open shelves: Small kitchen can be designed using the floating shelves which provide a contemporary look. The easy moving shelves are hardware and carving free and offer a clean look with continuity to the eyes making the kitchen appear bigger. Stacking of similar color dishware will give your kitchen a unified look. You can also go for glass or acrylic shelving on the side walls which will give an illusion of a larger kitchen space and will also provide you with the space to store glassware or other crockery items.
Cabinet color: For a small kitchen, go for a neutral color theme as it helps in maintaining the continuity level of the eye and makes the space appear more balanced. When you select your cabinets, go for simple and flat designs with less detailing. Choosing glass doors for the cabinet will make the kitchen appear bigger but make sure that the interior of the cabinet is painted with the same color as the cabinet's exterior.
Theory of color pallet: The use of colors can help in extending the look of the kitchen space physically and emotionally. Visual appearance can be increased by the use of colors. It is already proved that cool colors like shades of blues; make the look of a place spacious while the warm colors like rust and reds tend to create a closed feeling. This means that for a small kitchen, cool color tones should be selected to give your space a light and open look.
Accent wall usage: We have already discussed the importance of a neutral color pallet and the same color paint for the cabinets, appliances and the walls for a continuity factor. But if you go for the option of open shelves, there is an option of the accent wall which will help in popping some color to your space and giving it some modern touch. Leaving the rest of the kitchen in the same neutral tone and making the wall behind the open shelves accent wall or simply trying the wall paper to create the same effect is a great possibility.
Small kitchen floor and ceiling: Some extra touches to the ceiling and the floor can add style to your small kitchen. The space up high and down low is equally important and you can use the designing techniques which can add vertical depth to the kitchen too. You can play with colors by adding some floor cover or door mats as this will also enrich texture of the floor. Lighting the ceiling can add dimensions and elegance to your space especially if your ceiling is painted white or of a light color.
Kitchen Remodeling tips
If your kitchen is already built and you just wish to redesign it, we have some simple and effective tips for kitchen remodeling just for you. The design of your kitchen can be updated by some simple changes reflecting your sense of style.
Simply change your old curtains by giving your kitchen the contemporary touch. Blinds or roman shades can be used instead of the old draping. This can add color and crisp look to your kitchen space.
If you want to stay in budget and yet want some excitement in your kitchen design, try out adding a bold color or a textured wall paper to one wall of your kitchen. The color you use for that wall can be repeated in a few other places and decorations of your kitchen as this will add some sparkling touch and an enduring new theme to the space.
If you can afford a cabinet replacement than this can be a perfect way of remodeling your kitchen. Otherwise you can also bring some small changes while being in your budget too. Removing the upper cabinet doors, covering the inside area with some contact paper and displaying your best crockery is a fashionable way of bringing a change while staying in budget.
Add natural features: indoor plants, hanging money plants, fresh flower arrangements, herbs and pine cone decorations are a few natural ways to give your kitchen a fresh look.
Change the polish color: This is a very easy way of remodeling your kitchen and you can do it easily on a Sunday. If you have wooden cabinets, bring a wood polish of a different tone than your original cabinets and shine them up for a surprising altered look.
Change Seats: If you have counter stools or seats in the kitchen you can change them to the trendy new long chairs or stylish stools. If that's an expensive tip than try out something else. You can make cushions and seats covers at home by selecting one dominant color from your kitchen theme and feel the transformation.
If you have interest and the aesthetic sense you can easily redesign your kitchen and give it an entirely different look by making small changes. However when it's about designing a new kitchen, professional help is important. Expert guidance can help you in building the dream kitchen without spending extra as little mistakes and miscalculations can end up in a disastrous kitchen work environment.