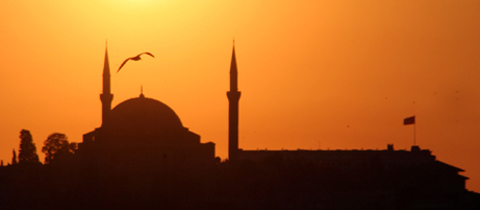 Time is flying by and the days have become shorter. If you have noticed, Ramadan each year goes by even faster than the previous year, leaving behind some hopes and promises to make our next Ramadan even better. Do you remember how productive your last Ramadan was? Any regrets? Wish to manage things and achieve time for Ibaadat? You will find the answers to your confusions in this article.
The purpose of choosing this topic was to help our sisters in planning their Ramadan to get maximum rewards out of it without ignoring the responsibilities of home and kitchen. Key to success in all matters is to plan things before hand. In the same way if you plan your Ramadan you can succeed in your aims of management.
Tip #1: Turn your "Ramadan Mode" ON
It is very important to realize the importance of the Holy month. Take out some time before Ramadan to read out Hadith and Quranic Verses to your family. Encourage them and ask them to cooperate with you in receiving maximum bounties and blessings this Ramadan.
Tip # 2: Ramadan Menu planning
Tradition of associating delicious food and specially made iftar servings with Ramadan cannot be altered. Generally most time of our sisters is spent in planning different menus and deciding on dishes. Zaiqa.com has made your work easy. We have compiled several scrumptious Ramadan menus and ideas to save your time and to assist you in managing kitchen and Ibaadat. Tell your kids that Ramadan is special because of its blessings and not because of the variety of food offered at Iftar. We should be the role model for our kids and portray a better message to our coming generation.
Tip #3: Manage Cooking
The problem of what to cook in Ramadan is already solved by Zaiqa.com. Now another question that comes in our mind is: When to cook and how to save time for Ibaadat? It is not necessary that you need to be completely free from work and sit in the corner to do your Ibaadat. There are other ways too! You can turn on a CD player with a Bayaan while being in the kitchen; you can recite dua's and Tasbih while cutting vegetables and fruits. These small tips can help in managing kitchen/home and Ibaadat in Ramadan.
Another way of saving time from kitchen activities is to prepare some food items and freeze them for later use or try some recipes which are quicker to prepare and yet are superb in taste. Browse through the Zaiqa blog for Quick Dinner Serving Ideas and Tips for assistance and I am sure it will be beneficial in managing yout time during the month of Ramadan.
You can make Samosay, Rolls, Cutlets, Shami kebab, Kachori, nuggets, potato balls, chicken hotshots, mango puree for juice and other such food items before Ramadan and freeze them for later use.
Tip #4: Bulk Ramadan Shopping
Going to do grocery every week in Ramadan is not just tiring but also eats up the time you can spend in offering Nawafils. Why not make a list of all you might need during the month and visit a Supermarket 2 days before Ramadan to do bulk buying? This home managing tip for Ramadan has served as an immense time saver for many sisters.
Tip #5: Eid Shopping
Shopping malls are packed with people and roads are jammed with traffic especially in the last 10 most important nights of Ramadan. A lot of time is wasted on roads and malls which could have been well invested in Ibaadat. I understand that Eid shopping is important but why not complete our Eid shopping's before Ramadan? I know sisters who do the same and spend the saved time in prayers.
Tip #6: Manage the Recitation of Quran
Set your targets, divide the days and decide on suitable timings. One easy way is to recite small portions of the decided target after every prayer as this will not just help you in achieving your target but will give you a feeling of contentment after every prayer of the day.
Tip #7: Manage the Sleep in Ramadan
Change in sleeping pattern may results in irritation and exhaustion which can act as a hindrance in your daily routine and supplications. To create a balance between home/kitchen and ibaadat you need to re-energize yourself by practicing a "qaylula" also known as the short sunnah sleep after Zuhr. In this way you can maintain the energy level for the day and can stay awake for the Tarawih Prayers at night. If you are job oriented or are not at home in the afternoon, try and take a small nap after you come home from work. Or else there is a good chance of missing interest and dedication in the late night prayers and ibaadats.
Tip #8: Save your Energy
At the start of the day, you are active and charged. Take advantage of this and complete all demanding and tiring tasks at that time. This will keep you calm and organized till Iftar without any worries of over exertion.
Tip #9: Cut down socializing
By the word "Socializing" I am not just indicating the Iftar parties and visiting restaurants for dinners in Ramadan. I am also requesting you to cut down the time you spend on telephonic conversations with friends and family along with the extra few hours used up on facebook and internet. We never realize how much of our time is eaten up by browsing internet and on social media sites. Try to reduce this spending and instead invest it in receiving uncountable blessings of Allah (SWT) in the month of Ramadan.
Tip #10: Manage home cleaning in Ramadan
Your priority should be getting most out of this Ramadan but this does not mean ignoring the home management. Try to clean the house and kitchen on the go instead of leaving things to be cleaned at once later on. This will make you more tired and will consume more of your precious Ramadan time.
Besides all the tips mentioned above there are several other customized ways which you can adopt according to your convenience which may help you in managing home/kitchen and Ibaadat. Doing your laundry once in a week, ironing clothes while listening to Tilaawat, ask your children or other helpers to assist you in cleaning, try and use time saving appliances like blender, shredder, cutter, pressure cooker etc. You may prepare pickles, chutney, lemon juice and grounded spices beforehand. Remember! Organizing yourself will relief half of your tensions. Result is more time to earn rewards in Ramadan.
Share with us your tips, views and advices on how you manage the Kitchen, Home and Ibaadat in Ramadan and let other sisters benefit from your valuable comments. Have a blessed Ramadan!