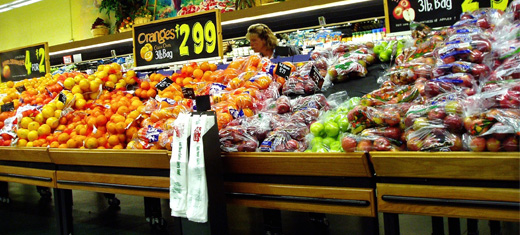 Saving money and time from a self-shopping experience with an attractive and strategic display in a supermarket is slightly difficult. On the other hand the uncertainty and economic conditions around us is encouraging the savings and wise spending. For this reason control over impulsive buying is important. Thus we decided to give you some shopping tips and guide you on how to save money and time at supermarket.

If you wish to keep shopping organized and timesaving, make a list of what you need to buy. Do not rely on your memory as this may lead to a second trip to the market if you forget some necessities. Making a list will not just save your time but will also help you to save money by sticking to the list and avoiding over purchase.
The strategic display of the products is the main strength of a Supermarket. Essential and must buy products like milk and bread are placed in the inside corner of the store and you have to cross the whole store to get them. This result in picking up the items you don't really need. Try not to be a target of this multifaceted presentation and pick only the items that are in your shopping list.
Customers buying behavior is influenced by social factors. If your shopping bags are filled with chocolates, chips, candies, stationary and cookies then it is very easy to guess that your children acted as influencers and the result is over spending. For this reason avoid taking kids to supermarkets when you wish to control your budget and save time.
One thing in supermarkets goes in your favor- the unit price listed on all items. In this way you can compare the prices and select the one that is offering you the best deal.
Being brand conscious means you have to pay extra for the name. Sometimes in general products like spices, bread and sugar you can save that extra money and buy other labels (at times supermarket offers their own brands in a cheaper price and same quality).
Mentally calculate the bill as you shop to stay in your budget. This will help you in shopping management and make your checkout easy.
Shelf setting in supermarkets is usually done in such a way that most expensive or popular brands are placed at our eye level and normally the lower shelves hold cheaper items. Along with considering the quality and ingredients before you buy also give a look to the brands in the lower shelves next time you go to a supermarket.
This may sound weird but it's true in my case. I tend to shop more food items if I am hungry and end up in buying doughnuts or cheese fries on my way out from the food counters near the checkpoints. This means you spend more if you are hungry! You can avoid this overspending if you go for grocery shopping after your meal at home.
Eat fresh and seasonal produce. This is not just good for health but will also save your money as the non-seasonal fruits and vegetables are costly. So, reduce the burden on your pocket by avoiding the out of season produce.
It's a good idea to inquire about sales or keep a regular check over the websites of these supermarkets for deals and discount offers. This way you can save some money from your monthly shopping budget.
Do you expect to save money if you buy something that you can get for free? I am talking about bottled water which is now a growing industry. You can easily save money by a little effort of boiling water at home and replacing bottled water.
Have you ever compared the convenience you get over the added cost you pay when you buy the prepared foods? How much time will be spent on grating cheese, cutting fries or cleaning chicken? Just for the sake of saving few minutes you spend so much extra on frozen fries, assorted packed vegetables, processed chicken and grated cheese?
Big supermarkets offer loyalty cards and using them can help you in gaining points and getting discounts. This is one advantage you get at a supermarket over the local shops.
If you follow some of the above stated suggestions on how to save money and time at supermarket, you will definitely save a great deal without compromising on the quality.
Let us know if you have some money and time saving tips at a supermarket!