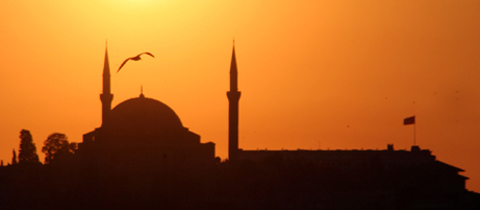 We have been writing Ramadan articles on different topics and issues to assist you and make your Holy month trouble-free and healthy. In the past, some very innovative and useful topics were discussed on the Zaiqa blog which were highly appreciated by our readers. We have compiled the glimpse of the helpful Ramadan blog posts from the past to provide an overview for your favourite and most appreciated Ramadan topics.
We care and that's the reason we share! Oily and fried stuff with a lot of sweets and drinks is a regular iftar menu. But a very important question we need to ask ourselves is about the health concern. People have been requesting article on the foods which are low in calories and high in energy which is the best combination especially for Ramadan. People have become more aware about health issues and wish to opt for a healthy life style. For this reason we included this article in our blog. Browse through the complete article and explore such amazing food ideas which will guide you to the foods that you should consume in Sehri and Iftar along with the food items that should be avoided. There is a special advice section for the weight watchers along with some interesting food ideas to choose from.
If we take special care of our health in the holy month of Ramadan and keep a balanced diet, while eating all we wish and want we can end up maintaining our weight yet being healthy. Determining the right quantity and the calorie count is the key to do this!
The day without water makes you feel dehydrated and every sip of the drink refreshes your senses and quenches your thirst. In this article we have compiled some traditional and a few innovative drinks and juices for this Ramadan. The weather is hot and you lose more water in the form of sweat. A nutritious drink can help you to regain your energy at the time of Iftar. You will find some amazing Iftar drink recipes like Almond shake with a lot of energy stored in one glass, Apple and Tomato juice for a juicy vitamin supply at Iftar, Banana Milk Shake recipe for a healthy start with dietary fibers. Some innovative iftar drink recipes are also included in the article like Cinderella drink with royal flavours of Orange, Pineapple and Lemon along with the special Sunset island summer drink and frozen fruity blast with ice-cream and strawberries to beat the summer heat in Ramadan.
Method of making the seasonal drink like Mango lassi and apricot cooler is also included in the article for a delicious and healthy drink. If you wish for an instant cool feeling go for the Pina Colada or Grape juice recipes which are full of texture and taste. Read the whole article to experience the exotic lip smacking flavours of the delighting drinks this Ramadan. We will be adding some more drinks and juices recipes for Ramadan 2013 as Summers and Ramadan together demand for more chillers and coolers for our readers.
In this article you will find tips to keep you healthy fit and fine during the Holy Month of Ramadan. Ramadan Fasting can be helpful in improving a person's health but only if the diet is followed in a correct way. Improper diet and over eating can actually worsen the situation. In this article we discussed 20 tips to fast healthy in Ramadan and help you to stay healthy and fit during the blessed month.
Outline of the tips discussed in the article includes overeating side effects in Ramadan. Suggestions on Including foods in your diet that discharge energy slowly during the fasting period like lentils, oats, basmati rice, wheat, grains, figs, apricots, Bran bread, Green beans, potatoes with skin etc and avoid the fast burning foods, fried items, Fatty foods such as cakes and sweets. Some healthy sehri and Iftar tips are also listed for your healthy start of the day. In the article you will find how to plan your medications and monitor your sugar level to avoid any health setback.
Browse the article if you want to know the Importance of keeping your self hydrated and some interesting ways for immediate rehydration during Ramadan. There are advices on Exercise timings and training advices specially related to the holy month. Besides this you will find amazing tips and suggestions for a healthy Ramadan.
Ramadan menu ideas and food recipes are being searched through the internet, books and magazines. In this article we tried to compile the scrumptious and delicious Ramadan menu ideas to make your cooking experience amusing and relaxed. Browse through the complete article for amazing Sehri Menu ideas, Iftar food items and recipes along with Ramadan dinner menu ideas and the scrumptious recipes to choose from. This collection of Ramadan menu ideas is a one stop for 50 different appetizing ideas.
Ramadan is given as a gift to the Muslims by Allah as this month beholds great rewards and benefits for the people who fully avail the blessings of Ramadan.In this article you will explore how fasting in Ramadan is beneficial for our physical and mental health. You will learn how meditations and prayers can be an excellent source of energy for the mind. Religious fasting provides our mind and body with a great opportunity to attain all the benefits of fasting. In the above article we have discussed how fasting can help in controlling weight and in some cases causes weight loss and you can get rid of the obesity issue. When the person is observing a fast the fat reserves break down and the toxins are eliminated causing detoxification of the body. There are uncountable ways by which the religious fasting helps us to stay physically fit and mentally calm.
We as Muslims have always believed on the benefits of fasting but now the modern researches and doctors have also shown how healthy fasting is and the misconception about fasting that it leads to low energy and starving along with a misunderstanding that it is not good for health are all removed. Read the article to find out how science has proven our faith on fasting and have a blessed Ramadan.
Ramadan means a definite change in routine and this may cause stress to some people who find it difficult to manage their busy routine. In this article we have added some advices, recommendations and suggestions to plan your Ramadan in such a way that the holy month becomes easy to manage and you stay stress free. The advices cover time management tips on cooking, stress free exercising, sleeping time suggestions, and managing time for personal worship and ibaadat. Some general Ramadan guidance along with specific children related proposals are discussed in the article.
The advices are compiled to help you in managing the daily routine during Ramadan. Go through the complete article and share your advices and tips for the Holy month of Ramadan and help others in getting most out of it.
Time is passing by and the busy routine of our lives has kept us occupied in the daily dealings. Still all Muslims around the globe has this wish of welcoming Ramadan in a different way and earn as many rewards and blessings as possible. For this preparations need to be made and you have to set goals and strive hard to achieve them. In this article we have discussed 7 goals that if achieved in Ramadan, can be helpful for you to attain the most out of this month. The main goals talked about include some moderation and modifications in the daily lifestyle especially the eating habits along with taking out more time for prayers which can be done by cutting down use of cell phone, internet and other technological advancements which can be avoided or cut down for a month at least. Read the complete article and find out how these simple goals can help you in bringing positivity in your life and refresh your soul. The key is self control and determination as this will help you the most in achieving the goals you have set.
So, get ready and set your own goals and tell us how you are planning your Ramadan this year and tell us how useful was this article in helping you to plan your Ramadan goals and achieving them.