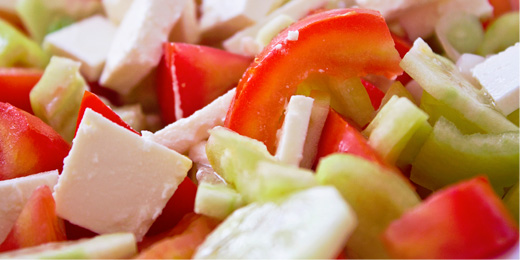 Do you know that single women prefer eating salads if men are around? This was proved in a research study conducted by a Canadian University. Now that's surprising, isn't it? A lot of other surprises are stored in this article for you regarding the importance of green vegetables, 10 easy salad recipes and health benefits of Salad. If you have noticed the recent menus of fast food restaurants, you will find an addition of "Salads" on the top of the menu cards. What do you think is the reason for the recent change? Can this be an attempt to save the fast food restaurants from lawsuits regarding unhealthy and fatty foods?
This is already accepted by world that salads are a great source of important nutrients our body needs every day. Salads tossed with fruits and raw veggies are delicious and the high content of fiber gives u a fuller feeling which means you end up eating less of the oily foods and this may help in obesity prevention. Being rich in fiber, salad helps in digestion and prevents constipation. It can help in keeping the cholesterol level low and is a source of antioxidants (free radicals in our blood that protects our body from possible diseases) in the blood. Salads keep your heart healthy, helps you in staying fit and young by preventing the signs of early aging, they have cancer fighting qualities and are known as a "weight maintenance" tool for the weight watchers.
In this article, I compiled 10 Easy Salad Recipes and Health Benefits of Salad for the salad lovers. Let us now see how these salads are a healthy option. The green vegetables including spinach and lettuce have less than 10 calories in one cup serving. And if you tossing them with other crunchy vegetables than you will be pleased to know that half cup serving of Cucumber has only 8 calories and carrots have 17 calories. How healthy will be a single serving of salad if it is mixed with other healthy and useful antioxidants like Orange and Strawberries having vitamin C, Sunflower seeds containing Vitamin E, Apple, peas and beans which are rich in fiber? Here are some interesting and easy salad recipes compiled to add a healthy and appetizing touch in your lives:
1. Herb Salad
Mix oil, lemon juice, garlic, ¼ teaspoon salt and black pepper in a bowl. Then toss in lettuce, tomatoes, carrots, beans and apples until coated well. You can add more vegetables and fruits to satisfy your taste.
2. Thai Salad
Marinate chicken in fish sauce, chili paste and lime and cook. Combine cucumbers and tomatoes in mustard and white vinegar. Lastly add cooked chicken and fresh lettuce leaves if you wish.
3. Chicken Berry Salad
Mix Salad dressing (honey and mustard) with some vinegar and orange juice. Sprinkle olive oil and keep the mixture aside. Now in a bowl, mix green lettuce and grilled chicken pieces with all kinds of berries available. Pour the dressing prepared before and coat well. This salad is served chill.
4. Mix Salad
Chop onion, cucumber, cabbage and dice tomatoes and carrots. Mix them with kidney beans and pomegranate. Just before you serve add some salt, black pepper as required and a pinch of sugar to enhance the taste.
5. Spaghetti Salad
Boil 1 pound spaghetti and put it aside. Now mix 1 Tbsp. grated parmesan cheese, sesame seeds 1 tbsp. garlic powder half tsp. salt and pepper according to your taste in the salad dressing and whisk well. Add cucumber and onion in the mixture and pour it over the spaghetti that was boiled earlier. Toss gently and garnish with diced tomatoes before serving.
6. Fruity jelly Kids Salad
This salad is an interesting and easy way to give your kids a portion of fruits in their diet. It is not just full of colors but tastes great too. The three easy steps to prepare the fruity jelly are:
Step 1: In a sauce pan add fruit juices of your own choice (pineapple, orange and apple) and dissolve jelly in the boiling fruit juices. Set it aside in a dish to cool.
Step 2: Now add fruity pineapple chunks, oranges, bananas and any other seasonal fruit your kids like in the well set jelly and whip it together. Put it in the refrigerator to set.
Step 3: Top it with some whipped cream and colorful marshmallows to make it more tempting and serve cold.
7. Russian Salad
Boil vegetables (peas, carrots, potatoes) and mix them with fruits (Pineapple and apple). Add lemon juice, salt, pepper and sugar according to your taste and mix well. Now add whipped cream and mayonnaise. Refrigerate before serving!
8. Oriental Salad
For oriental salad you need shredded red cabbage, finely shredded cabbage, toasted sesame seeds and chopped green onions. In a bowl add artificial sweetener pepper with sesame oil or olive oil and toss salad leaves, cabbage, onions and seeds. Toss well, cover with a cling and allow chilling. Mix dressing ingredients and before serving leave it aside for a few minutes to add flavors.
9. Holiday Salad
Mix chicken (cooked and diced) with pineapple chunks, peanuts, celery, onions and green pepper. Take another bowl and combine mayonnaise with lime juice and salt. Pour the chicken mixture in the bowl and mix well. Keep it in the refrigerator for some time. On a serving plate make a lettuce bed and serve the salad on it.
10. Bean Salad
This is a fiber rich salad with red beans, green beans, black beans all cooked in advance and mixed with sliced onions, green onions, green peppers, celery, vegetable oil, honey, lemon juice, oregano and parsley. Mix all ingredients in a bowl and serve it chill.
A healthy way of living and changing trends in the eating habits has made salads more popular. It is now very important to educate the masses about the healthy side of Salad servings. In the above article, 10 Easy Salad Recipes and Health Benefits of Salad are presented in a simple way so that the readers can gain most out of it.
Do tell us if the article was of any help to you and notify us with your valued views in the comment section.