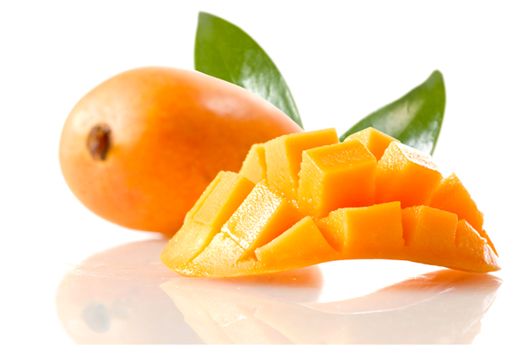 Mango is called "The king of all fruits" due to its strong flavor, rich fragrance and a vitalizing taste.
Mangoes are readily available in June and July and are thought to be native to India; mangoes have been cultivated for more than 4,000 years and is said to be the most popular fruit of the season.
Mango season brings in a lot of new recipes, smoothies, juices, pickles, cocktails, jams, jellies, cakes, pie, muffins, sauces, ice-cream, salads and a never ending list of mango celebrations.
Mango Nutrition and Diet Notes
One cup of sliced mango contains 107 calories with 4 calories from fat.
We can say that mango is low in calories and fat.
Iron in mango is said to be suitable for pregnant women as well as for people suffering from anemia.
It is a great source of fiber which is said to be approximately 3 grams.
Mangoes are high in Vitamin C and B6 along with a decent amount of minerals like calcium, magnesium, potassium and copper.
Mango Selection
There are hundreds of different varieties of mangoes available in different colors, so a yellow color alone cannot indicate that the mango is correct for selection and is properly ripe.
The best way is to feel the mango by taking it in your hand, smelling it and pressing it gently. The soft mushy feeling and the strong sweet smell will be a sign of a perfect well done mango that is ready to eat.
If the mango is not fully grown, it should be folded in a paper bag or a news paper and should be placed in a warm place for a few days.
A regular check should be maintained to pick the ripe mangoes out of the bag.
Links to Tempting and Scrumptious Recipes Prepared with Mangoes
Enjoy the mango season and tantalize your taste buds with the delicious recipes and flavors of mango.
WELCOME TO THE MANGO SEASON!